Pit Bull Terrier Stationery
Order American Pit Bull Terrier notepads and stationery in a variety of styles.
---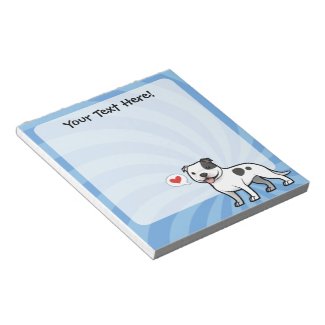 Personalized Pit Bull Love Memo Pad custom printed with any name or other text.
---
Got Yo Gifts Pit Bull Smoke Note Holder Beautifully laser cut there is not another note holder like it on the market. Stick them anywhere. Give some style to your notes and memos. Independently tested to be twice as sticky as the competition.
---
Pit Bull, Brindle Pen Easy Glide Gel Pen Ranked #1 in the country by GiftBeat Magazine, these Pit Bull Gel Pens are proving irresistible! Each pen is refillable so you'll never need another pen again. There is a comfortable grip on every Pit Bull Pen that makes it easier to not slip or slide when in use. Every pen is enhanced with gel ink that helps create a perfect writing technique each and every time. You can't go wrong ordering this pen for any Pit Bull lover or owner out there. It's a convenient item to carry anywhere you go or for any home or office, and it's a great way to show off your adorable pet!
---
Pit Bull Bookmark Sticker: A fun twist on solid color page markers. Each pitbull package features 3 different cute Pit Bull images and a paw print! These flags are great for journals
---
Pit Bull Terrier Note Holder: A Pit Bull Terrier note holder makes an awesome gift for proud owners of this powerful dog. Made of stone resin and hand painted, anyone with a good sense of quality will be stunned by this Pit Bull Terrier memo holder. And they will love how handy it will be around the house or at the office. With our Pit Bull Terrier memo holders, writing notes and reminders was never so convenient and pleasurable. The only thing that will distract you from this stunning item is your aggressively affectionate pet pawing at your leg.
---
Pit Bull Terrier Note Holder (White):
---
ES Imports NP-26C Pit Bull Paw Shaped Magnetic Notepad in Black - Pack of 3 Use our die cut sticky notes to keep them easily visible. These super sticky notes will stick just about anywhere keeping your important reminders visible. Notepads include 50 sheets of self-adhesive paper and large magnetic back.
---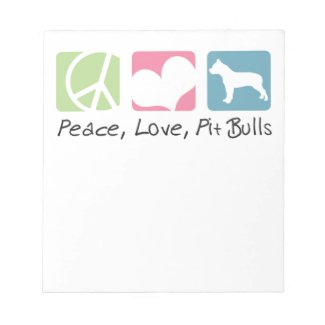 Peace Love Pit Bulls Scratch Pad can be ordered as-is or custom printed with your name or any other text at no additional charge.
---
MANY MORE Pit Bull Note Pads at Zazzle.
---
More Great Stuff ~ Novelties and Gifts for Pitbull Lovers!
PITBULL CHECKS | PIT BULL ADDRESS LABELS | CHECKBOOK COVERS
PITBULL STICKERS | PIT BULL CHARMS/PENDANTS | JEWELRY
PITBULL T-SHIRTS | PIT BULL MUGS | CUPS/TUMBLERS | COASTERS
KEYCHAINS | PIT BULL MAGNETS | PITBULL FIGURINES
PITBULL CALENDARS | STATIONERY | GREETING CARDS
PIT BULL CLOCKS | WATCHES | CHRISTMAS ORNAMENTS
PIT BULL STUFFED ANIMALS | THROW PILLOWS | THROW BLANKETS
PIT BULL iPHONE COVERS | SAMSUNG GALAXY COVERS | MOUSEPADS
HANDBAGS/TOTES | HATS | SOCKS | SIGNS/FLAGS | PIT BULL GIFTS
---
---
Partner Sites:
Pug Checks | Bulldog Checks | Boxer Dog Checks | Horse Personal Checks
Dog Checks | Labrador Retriever Checks | Skull Checks