Pit Bull Terrier Throw Pillows
Order American Pit Bull Terrier decorative throw pillows in a variety of styles and sizes
---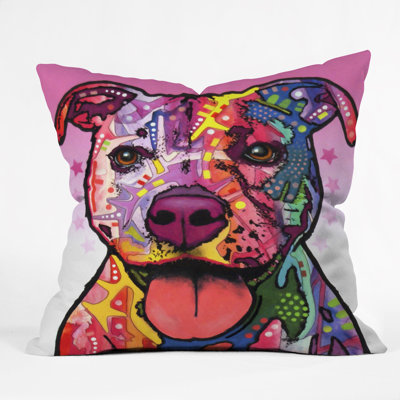 Dean Russo Cherish The Pitbull Throw Pillow: Available in Small, Medium, Large, and Extra Large sizes.
---
Doggy Decor Pitbull Porter Pillow available in four different sizes from 16" to 26" square.
---
Bentin Pet Decor Pit-Bull Pillow Add a great conversation piece with bright and fun throw pillows that will surely liven up any space.
---
Pit Bull Decorative Fabric Pillow from Caroline's Treasures Indoor or Outdoor pillow made of a heavy weight canvas. Has the feel of Sunbrella fabric. 14 inch x 14 inch
---
Pit Bull Dog Pillow 17x17 Created in the style of a Leonardo da Vinci sketch, this image of a Pit Bull is applied to a wonderfully soft and natural feeling indoor/outdoor poly-linen fabric. The Pit Bull Dog Pillow makes a great gift for anyone who owns and loves this breed. Or incorporate this pillow into your own home to celebrate the unconditional affection that your dog shares with you. A Leonardo's Dogs original.
---
Bone-Shaped Throw Pillow, Best Friends 12 x 16 x 5 inches
---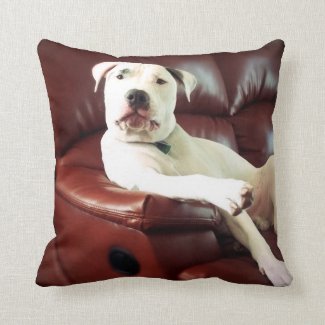 funny white pit bull dog on the couch throw pillow The perfect complement to your couch, custom pillows will make you the envy of the neighborhood. Available in your choice of 6 different square and rectangular (lumbar pillow) sizes.
---
Pit Bull T-Bone Throw Pillow Available in your choice of 6 different square and rectangular (lumbar pillow) sizes.
---
MANY MORE Pit Bull Pillows at Zazzle.
---
More Great Stuff ~ Novelties and Gifts for Pitbull Lovers!
PITBULL CHECKS | PIT BULL ADDRESS LABELS | CHECKBOOK COVERS
PITBULL STICKERS | PIT BULL CHARMS/PENDANTS | JEWELRY
PITBULL T-SHIRTS | PIT BULL MUGS | CUPS/TUMBLERS | COASTERS
KEYCHAINS | PIT BULL MAGNETS | PITBULL FIGURINES
PITBULL CALENDARS | STATIONERY | GREETING CARDS
PIT BULL CLOCKS | WATCHES | CHRISTMAS ORNAMENTS
PIT BULL STUFFED ANIMALS | THROW PILLOWS | THROW BLANKETS
PIT BULL iPHONE COVERS | SAMSUNG GALAXY COVERS | MOUSEPADS
HANDBAGS/TOTES | HATS | SOCKS | SIGNS/FLAGS | PIT BULL GIFTS
Get the best food for your pit bull at PitBullFood.com ~ best quality Natural and Raw dog foods for pit bulls and other dogs too!
---
---
Partner Sites:
Pug Checks | Bulldog Checks | Boxer Dog Checks | Horse Personal Checks
Dog Personal Checks | Labrador Retriever Checks | Skull Checks