Pit Bull Terrier Mousepads
Order American Pit Bull Terrier computer mouse pads in a variety of styles.
---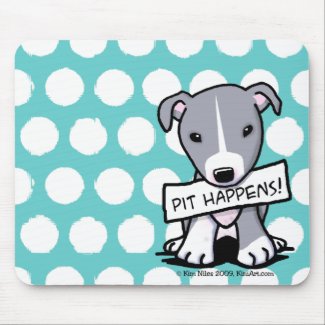 KiniArt Pit Happens Pit Bull Dog Mousepads With Pit Bull dog breed art by children's book Illustrator and Author, Kim Niles.
---
Pit Bull / Staffie Love (red pied) Mouse Pad 9.25" x 7.75" – Perfect for any desk or work space.
---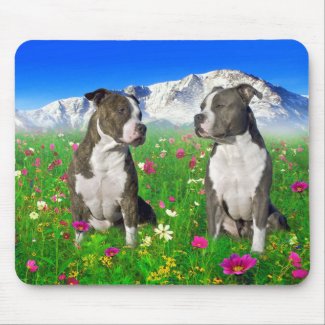 Brindle & Blue Staffordshire & Pit Bull Dogs Mousepad sitting in a field of pink cosmos flowers at the base of America's mountain, Pikes Peak, Colorado Springs, CO.
---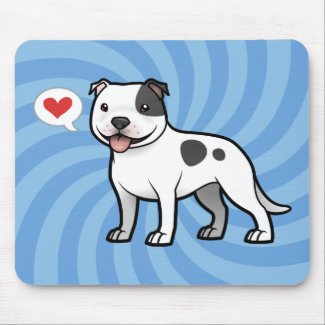 Cartoon Pit Bull Love Mousepad 9.25" x 7.75".
---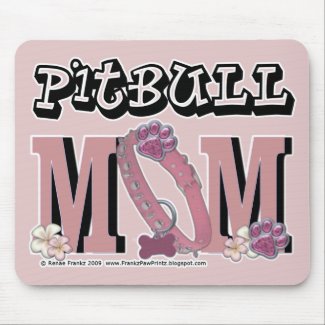 Pitbull MOM Mouse Pad Show the World that YOU are a PROUD Pitbull Dog Owner! This MOM design is embellished with a dog collar and Pink Paw Prints.
---
MANY MORE Pit Bull Mouse Pads at Zazzle.
---
More Great Stuff ~ Novelties and Gifts for Pitbull Lovers!
PITBULL CHECKS | PIT BULL ADDRESS LABELS | CHECKBOOK COVERS
PITBULL STICKERS | PIT BULL CHARMS/PENDANTS | JEWELRY
PITBULL T-SHIRTS | PIT BULL MUGS | CUPS/TUMBLERS | COASTERS
KEYCHAINS | PIT BULL MAGNETS | PITBULL FIGURINES
PITBULL CALENDARS | STATIONERY | GREETING CARDS
PIT BULL CLOCKS | WATCHES | CHRISTMAS ORNAMENTS
PIT BULL STUFFED ANIMALS | THROW PILLOWS | THROW BLANKETS
PIT BULL iPHONE COVERS | SAMSUNG GALAXY COVERS | MOUSEPADS
HANDBAGS/TOTES | HATS | SOCKS | SIGNS/FLAGS | PIT BULL GIFTS
---
---
Partner Sites:
Pug Checks | Bulldog Checks | Boxer Dog Checks | Horse Personal Checks
Dog Checks | Labrador Retriever Checks | Skull Checks