Pit Bull Terrier Keychains
Order American Pit Bull Terrier keychains in a variety of styles.
---
Pit Bull Terrier Head Keychain: Both functional and fun, this classic Pit Bull Terrier keychain is hand finished for superior detail. Made from pewter, each Pit Bull Terrier key chain is designed by an artist who is known for bringing breeds to life with her realistic sculpting. Don't leave home without your Pit Bull Terrier keyring, it will be enjoyed by all dog enthusiasts. Approximate size on the Pit Bull Terrier key ring is 2 inches.
---
Pit Bull Keychain: Everyone you encounter during the day will fall in love with your favorite breed when they see this Pit Bull Keychain. Made from stone resin and hand finished with excellent attention to detail, the gray and white painting of the figurine highlights the dog's natural coat and coloring. The Pit Bull key chain is approximately 2 inches with a gold chain so that it can easily attached to your keys or a backpack. The Pit Bull keychain makes an excellent gift that everyone will enjoy and admire.
---
Pit Bull Key Cover: No more worrying about confusing the keys on your key ring
---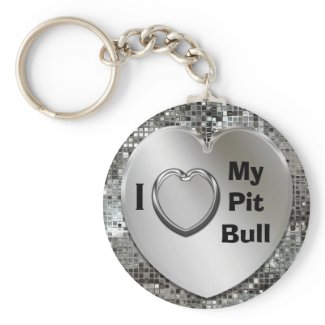 I Love My Pit Bull Heart Keychain Easily change the word "Pit Bull" to your pet's breed such as "Poodle", etc. A lovely, fun key chain with a big metal smooth silver look heart on a background of silver sequins. "I Heart My Pit Bull" is shown with a silver heart in place of the word heart. Easily personalize with your dog or cat's breed or any name to show your love! Great for the animal lover! Realistically printed, not actual sequins, etc.
---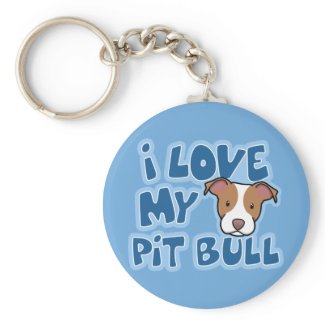 Kawaii I Love My Pit Bull Keychain 2.25 inches, great for purses and pockets.
---
Cartoon Pit Bull / Staffie Key Chain: MANY OTHER DOG COLORATIONS ARE AVAILABLE in this design; just click through and enter "cartoonize pit bull keychain" in the search box to view all available options.
---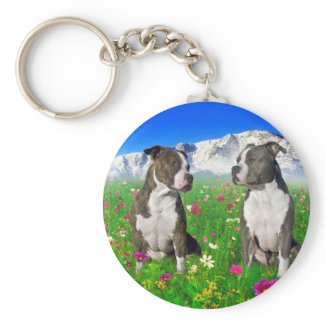 Brindle & Blue Staffordshire & Pit Bull Dogs Key Chain sitting in a field of pink cosmos flowers at the base of America's mountain, Pikes Peak, Colorado Springs, CO.
---
Pit Bull Love Hearts Key Chain The sturdy clasp keeps keys together securely, and holds up well through daily wear-and-tear.
---
Solid Pewter Staffordshire Bull Terrier Keychain Presented in a beautiful velveteen gift pouch
---
MANY MORE Pit Bull Key Chains at Zazzle.
---
More Great Stuff ~ Novelties and Gifts for Pitbull Lovers!
PITBULL CHECKS | PIT BULL ADDRESS LABELS | CHECKBOOK COVERS
PITBULL STICKERS | PIT BULL CHARMS/PENDANTS | JEWELRY
PITBULL T-SHIRTS | PIT BULL MUGS | CUPS/TUMBLERS | COASTERS
KEYCHAINS | PIT BULL MAGNETS | PITBULL FIGURINES
PITBULL CALENDARS | STATIONERY | GREETING CARDS
PIT BULL CLOCKS | WATCHES | CHRISTMAS ORNAMENTS
PIT BULL STUFFED ANIMALS | THROW PILLOWS | THROW BLANKETS
PIT BULL iPHONE COVERS | SAMSUNG GALAXY COVERS | MOUSEPADS
HANDBAGS/TOTES | HATS | SOCKS | SIGNS/FLAGS | PIT BULL GIFTS
---
---
Partner Sites:
Pug Checks | Bulldog Checks | Boxer Dog Checks | Horse Personal Checks
Dog Checks | Labrador Retriever Checks | Skull Checks