Pit Bull Terrier Coasters
Order American Pit Bull Terrier beverage coasters in a variety of styles.
---
3dRose cst_4240_3 American Pit Bull Terrier Puppy Ceramic Tile Coasters, Set of 4 are 4.25" x 4.25", non absorbent and come with felt corner pads.
---
Pitbull Rubber Round Coaster set 4" round rubber coasters of the image shown are made of a durable heat-resistant polyester fabric top, backed with a neoprene rubber non-slip backing, keeps things from sliding. The rubber coasters are 1/8" thick. It will not discolor or fade, machine washable.
---
Pit Bull Valentine Hearts Foam Coasters 3 1/2 inches by 3 1/2 inches. Permanently dyed and fade resistant. Great to keep water from your beverage off your table and add a bit of flair to a gathering.
---
Pit Bull Lucky Shamrock Foam Coasters 3 1/2 inches by 3 1/2 inches.
---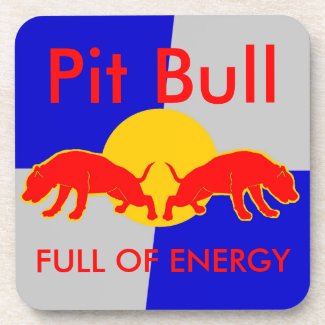 Full of Energy Pit Bull Coasters If you have a bar or man cave and also own Pit Bulls then this is for you. Our Full of Energy Pit Bull coasters a fun spin on the very popular refreshment drink. Make a great inexpensive gift for the pit bull owner you know.
---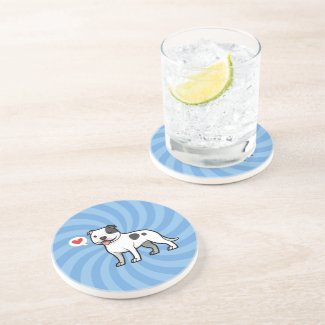 Pit Bull Love Drink Coasters 4.25" in diameter – the perfect size for any cup, can, or bottle. Made of sandstone with a cork pad backing.
---
MANY MORE Pit Bull Drink Coasters at Zazzle.
---
More Great Stuff ~ Novelties and Gifts for Pitbull Lovers!
PITBULL CHECKS | PIT BULL ADDRESS LABELS | CHECKBOOK COVERS
PITBULL STICKERS | PIT BULL CHARMS/PENDANTS | JEWELRY
PITBULL T-SHIRTS | PIT BULL MUGS | CUPS/TUMBLERS | COASTERS
KEYCHAINS | PIT BULL MAGNETS | PITBULL FIGURINES
PITBULL CALENDARS | STATIONERY | GREETING CARDS
PIT BULL CLOCKS | WATCHES | CHRISTMAS ORNAMENTS
PIT BULL STUFFED ANIMALS | THROW PILLOWS | THROW BLANKETS
PIT BULL iPHONE COVERS | SAMSUNG GALAXY COVERS | MOUSEPADS
HANDBAGS/TOTES | HATS | SOCKS | SIGNS/FLAGS | PIT BULL GIFTS
Get the best food for your pit bull at PitBullFood.com ~ best quality Natural and Raw dog foods for pit bulls and other dogs too!
---
---
Partner Sites:
Pug Checks | Bulldog Checks | Boxer Dog Checks | Horse Personal Checks
Dog Personal Checks | Labrador Retriever Checks | Skull Checks