Pit Bull Terrier Greeting Cards
Order American Pit Bull Terrier greeting cards in a variety of styles for all occasions. Pit Bull Christmas cards, birthday cards, and note cards that can be personalized.
---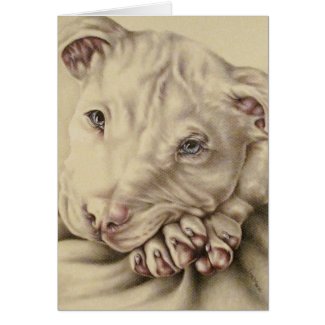 White Pit bull Drawing with Blue Eyes Note Card can be personalized with any text on inside or outside of card at no extra charge.
---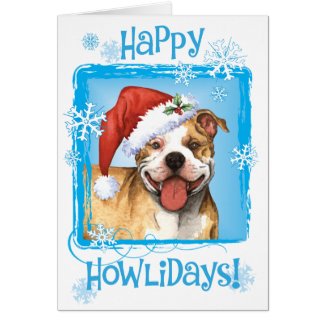 Happy Howliday Pit Bull Terrier Greeting Card Send Christmas greetings with this card of a cute, happy American Pit Bull Terrier wearing a Santa hat amid snowflakes and the words, Happy Howlidays! Great for APBT-loving family and friends.
---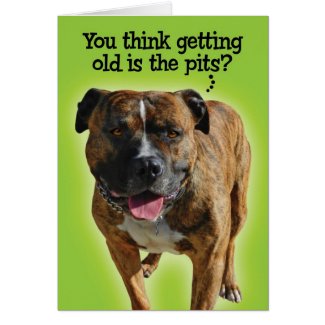 Funny Pit Bull Birthday Card Customize all parts of this folded card – inside and out, front and back – for free!
---
Pit Bull Terrier Christmas Cards : 10 Holiday Cards with Red Envelopes: Beautifully Designed by artist Mary Badenhop. 5" x 7".
---
Pit Bull Blank Greeting Cards Can be ordered as-is, or custom printed with any text inside and outside at no extra charge.
---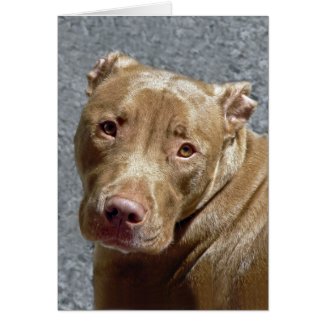 Pit Bull Portrait Greeting Card can be custom printed with any text on inside or outside of card at no extra charge.
---
MANY MORE Pit Bull Cards at Zazzle.
---
More Great Stuff ~ Novelties and Gifts for Pitbull Lovers!
PITBULL CHECKS | PIT BULL ADDRESS LABELS | CHECKBOOK COVERS
PITBULL STICKERS | PIT BULL CHARMS/PENDANTS | JEWELRY
PITBULL T-SHIRTS | PIT BULL MUGS | CUPS/TUMBLERS | COASTERS
KEYCHAINS | PIT BULL MAGNETS | PITBULL FIGURINES
PITBULL CALENDARS | STATIONERY | GREETING CARDS
PIT BULL CLOCKS | WATCHES | CHRISTMAS ORNAMENTS
PIT BULL STUFFED ANIMALS | THROW PILLOWS | THROW BLANKETS
PIT BULL iPHONE COVERS | SAMSUNG GALAXY COVERS | MOUSEPADS
HANDBAGS/TOTES | HATS | SOCKS | SIGNS/FLAGS | PIT BULL GIFTS
Get the best food for your pit bull at PitBullFood.com ~ best quality Natural and Raw dog foods for pit bulls and other dogs too!
---
---
Partner Sites:
Pug Checks | Bulldog Checks | Boxer Dog Checks | Horse Personal Checks
Dog Personal Checks | Labrador Retriever Checks | Skull Checks