Pit Bull Terrier Throw Blankets
Order American Pit Bull Terrier decorative fleece and fringe throw blankets in a variety of styles and size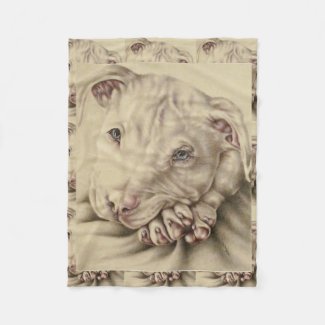 Drawing of a White Pitbull on Fleece Blanket This original pencil art of a pitbull's portrait looking up with an endearing smile and blue eyes makes a beautiful gift for dog lovers. It would also be a great present for breeders and all dog lovers that love dog art. Add your dog's name for a unique personalized product!
---
Pitbulls Fleece Throw Signature Collection Size 50" X 60"
---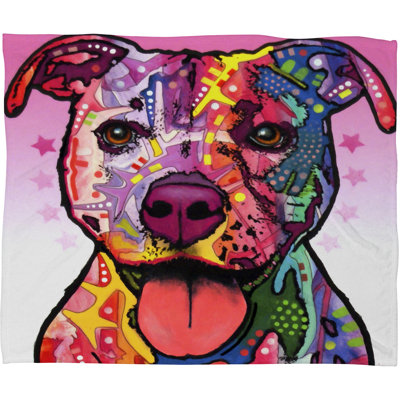 DENY Designs Dean Russo Cherish The Pitbull Fleece Throw Blanket: The colors of the Dean Russo Cherish The Pitbull Polyester Fleece throw will add vitality to the dullest of settings. It features a photo realistic pit bull amidst a cacophony of colors. This throw is a must for any dog lover or animal lover. The fleece throw is reversible and the other side is plain white. Both the sides of this throw are soft to touch. Made of polyester this soft fleece throw is durable and long lasting. This beautifully crafted throw is also lightweight. It is available in various sizes to choose from depending on your requirements.
---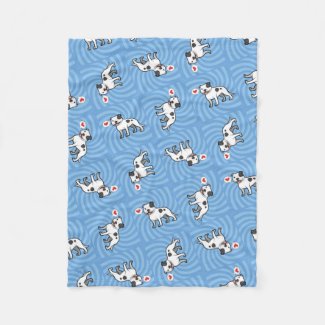 Cartoon Pit Bull Love Fleece Blanket: Available in your choice of 3 sizes.
---
MANY MORE Pit Bull Blankets at CafePress.
---
More Great Stuff ~ Novelties and Gifts for Pitbull Lovers!
PITBULL CHECKS | PIT BULL ADDRESS LABELS | CHECKBOOK COVERS
PITBULL STICKERS | PIT BULL CHARMS/PENDANTS | JEWELRY
PITBULL T-SHIRTS | PIT BULL MUGS | CUPS/TUMBLERS | COASTERS
KEYCHAINS | PIT BULL MAGNETS | PITBULL FIGURINES
PITBULL CALENDARS | STATIONERY | GREETING CARDS
PIT BULL CLOCKS | WATCHES | CHRISTMAS ORNAMENTS
PIT BULL STUFFED ANIMALS | THROW PILLOWS | THROW BLANKETS
PIT BULL iPHONE COVERS | SAMSUNG GALAXY COVERS | MOUSEPADS
HANDBAGS/TOTES | HATS | SOCKS | SIGNS/FLAGS | PIT BULL GIFTS
Get the best food for your pit bull at PitBullFood.com ~ best quality Natural and Raw dog foods for pit bulls and other dogs too!
---
---
Partner Sites:
Pug Checks | Bulldog Checks | Boxer Dog Checks | Horse Personal Checks
Dog Personal Checks | Labrador Retriever Checks | Skull Checks