Pit Bull Personal Checks
Order Pit Bull Terrier design personal checks online! Bank checks with pictures of Pitbulls on them available in a variety of styles.
---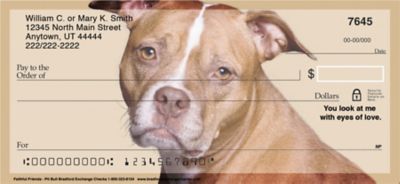 Pit Bull Faithful Friends Personal Checks Photos of pitbull terriers with caption of "You look at me with eyes of love".
---
Pit Bull Puppies Cartoon Art Checks 4 different KiniArt illustrations.
---
Pitbull Puppies Checks cute young pits in 4 different poses. Matching return address labels are also available.
---
Pit Bull Friends Checks 4 portrait photos of adult pit bull terriers.
---
Pit Bulls Again Checks 4 different color photos.
---
Pitbull Dogs Personal Checks 4 alternating photos of white pit bulls.
---
I Love My Pit Bull Checks 4 artistic renderings.
---
Pitbull Personal Checks Four rotating full-color photos of American Pitbull Terriers.
---
More Great Stuff ~ Novelties and Gifts for Pitbull Lovers!
PITBULL CHECKS | PIT BULL ADDRESS LABELS | CHECKBOOK COVERS
PITBULL STICKERS | PIT BULL CHARMS/PENDANTS | JEWELRY
PITBULL T-SHIRTS | PIT BULL MUGS | CUPS/TUMBLERS | COASTERS
KEYCHAINS | PIT BULL MAGNETS | PITBULL FIGURINES
PITBULL CALENDARS | STATIONERY | GREETING CARDS
PIT BULL CLOCKS | WATCHES | CHRISTMAS ORNAMENTS
PIT BULL STUFFED ANIMALS | THROW PILLOWS | THROW BLANKETS
PIT BULL iPHONE COVERS | SAMSUNG GALAXY COVERS | MOUSEPADS
HANDBAGS/TOTES | HATS | SOCKS | SIGNS/FLAGS | PIT BULL GIFTS
---
---
Partner Sites:
Pug Checks | Bulldog Checks | Boxer Dog Checks | Horse Personal Checks
Dog Checks | Labrador Retriever Checks | Skull Checks